Houses for Katrina victims by Brad Pitt's Make It Right Foundation -
http://tinyurl.com/mco7jl
These designs seem ill-conceived(?)
I know Brad didn't design them, but he doesn't seem able to marshall focus on issues affecting real working class people-- not just housing in the abstract (like it's some student project.) So Brad, keep your day job. --SM
From mnn.com,
[quote] Actor Brad Pitt has partnered with real-estate developer and philanthropist Steve Bing to create low-price, sustainable homes as part of the "Make it Right" project. A set of duplex designs were proposed by 13 of the world's top architects to visualize and design green, sustainable houses for hurricane Katrina victims.The designs had to be flexible, with "interchangeable floor plans that allow the families to change the size and configuration of the two homes as their family size, needs or economic situation changes."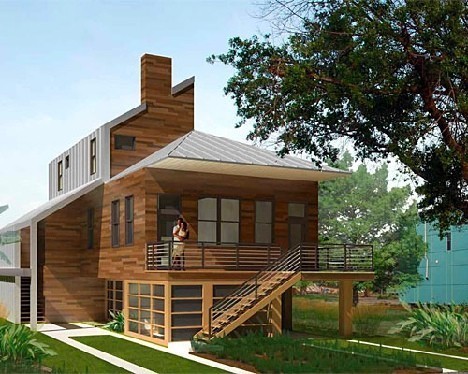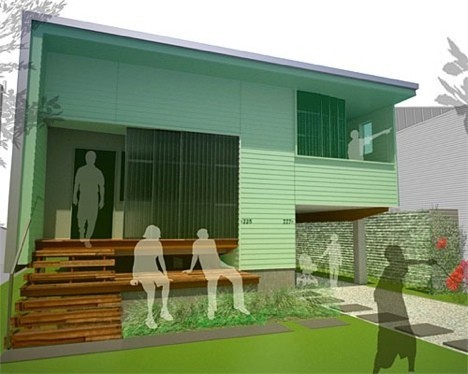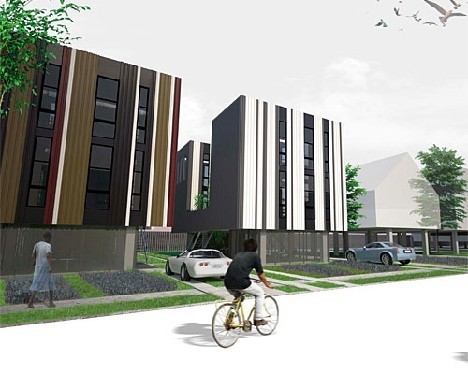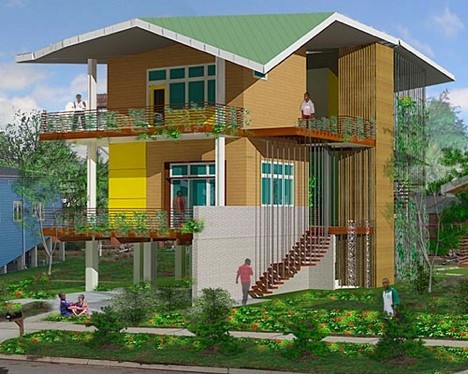 The big name architects include Bild design, Billes Architecture, Buidlingstudio , BNIM and so on.The selected designs are under construction. More images follow…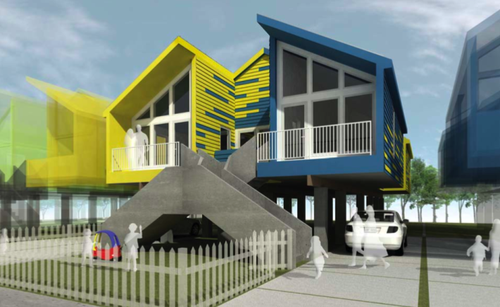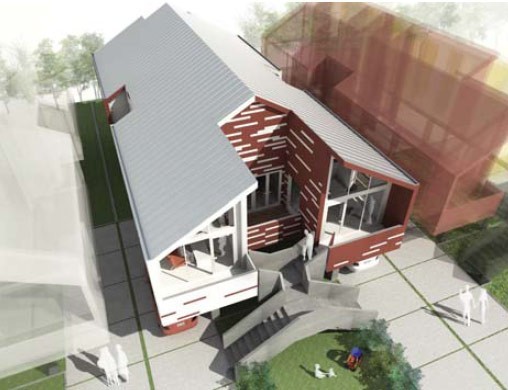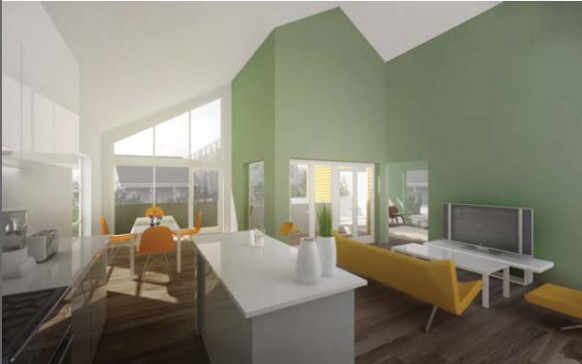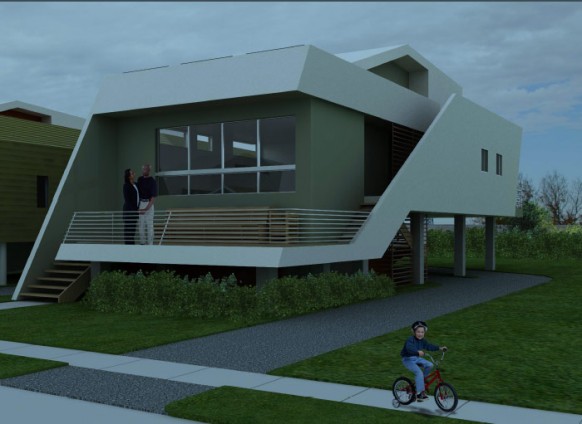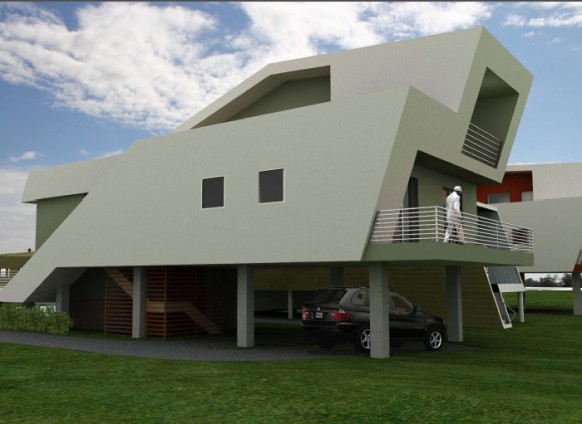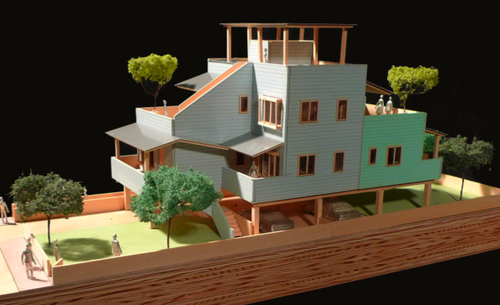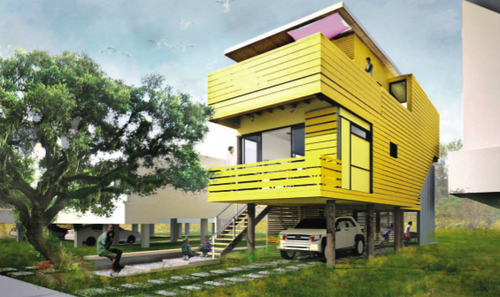 These sure aren't affordable.. They're kinda large, no? The homes seem larger than the homes they were to replace (?) Some look like townhomes, but I can't be sure. (Let's hope some designs are multi-unit dwellings, otherwise they don't appear to have employed much in the way of sustainable principles.)
I like how the deep, dark, cavernous under-bellies of these structures (presumably car ports etc.), are ripe for urban criminal activity and breaks-ins --free from the view of neighbors and passers-by.
This kind of well-intended privacy & shelter approach in *urban areas* generally serves to facilitate & shield crime. FAIL.
Such
design considerations should have been topics covered (by most architecture students) in Residential Defensive Design for Urban Areas 101.
It appears the structures are raised to minimize destruction from (future) flooding. From the School of Unintended Consequences, we should have learned that if certain features facilitate crime, then maybe siting, site selection & civil engineering issues need to be given greater priority as part of an overall design & planning strategy.
Some of the "Build It Better" architects seem to be designing for a suburban context-- not an urban one.
FAIL.
Also, part of New Orleans (and urban) working/middle class culture embraces the Front Porch and the importance of the House's connection with one's neighbors as they pass by. Some of the designs struggle to integrate that connection to neighborhood and the street. (Again, the street connection also serves a preemptive purpose in deterring petty crime.) At least one design (with a porch/deck) fails outright, in my opinion. (Just because the deck feature exists, doesn't mean it serves or facilitates the intended purpose.)
I am a big fan of modern, edgy design. However, most of these homes seem to disregard the New Orleans context. Some of the designs are just hideous for urban dwelling (which doesn't mean they won't work in the suburbs.)
How does the idiosyncratic nature of these designs facilitate affordable standard maintenance & repair for families of modest means (if they come to live in one of these units via a Grant? Among the multi-family units, are these rentals? or Co-ops? Assesments for the co-ops need to be established so maintenance in common areas can be provided AND protected.)
The colors used on the models: Normally, one might put the ideal/preferred color (& material) on the prototype. Some of the color choices are just bizarre (& speak more to the color selection as design exercise, and not the final intended or recommended color. In an academic setting this kind of artistic license is fine. However, the public generally doesn't "get" these kind of nuances, and can be unnecessarily turned off & distracted by this type of detail on otherwise very good designs.)
Stop putting Corvettes in the driveway, unless the icon is consistent with the demographic of the people being served. (When did Corvettes get "green creds" ? Don't answer.)
This is why the public does not understand and perhaps, even hates architects.